New on the Shelves, July 2019 II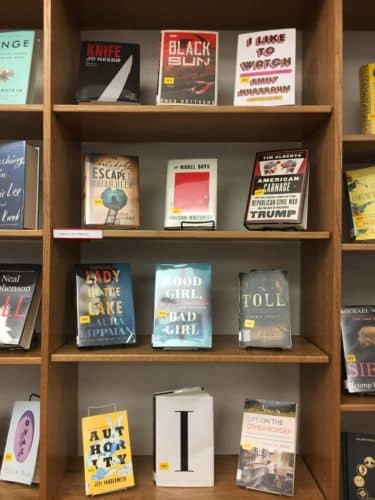 Knife
by Jo Nesbo
The newest entry into the Scandinavian crime series starring Harry Hole (which I will never stop snickering about) in which our titular detective wakes up, hungover, hands covered in blood. is HE the murderer?! …Probably not but, like all Swedish mysteries, I'm sure it'll be just as dark and disturbing as usual.
Black Sun
by Owen Matthews
A slant historical mystery involving a murder at a secret Soviet reserach center. It's a bit ridiculous, and if you've ever read Tolstoy you will understand the difficulty of Russian names, but Kirkus recommends this books by saying that it starts off sluggish, then provides many pleasures.
So I think they're giving one thumb up?
The Unlikely Escape of Uriah Heep
by H.G. Parry
A passing familiarty with Dickens and classic literature will help with this debut novel by Australian H.G. Parry. Charley has the strange ability to make literary characters come to life, but someone is out there who has a nefarious interest in Charley's capabilities. Sounds like Jasper Fforde but without the comedy. Kirkus loooved this book.
Kirkus starred.
The Nickel Boys
by Colson Whitehead
Hoo boy. This book is, like, the one. People have been talking about it all over the place. We last read Whitehead with his debut novel The Underground Railroad – an alternate history of America following a Confederate victory in the Civil War. In The Nickel Boys, Whitehead is inspired by the real events surrounding a deeply flawed and cruel boarding school. Expect themes of racial segregation and institutional authority.
Kirkus starred.
Lady in the Lake
by Laura Lippman
This tells the story of a Jewish housewife named Maddie Schwartz (the review says "attractive housewife," which seems unnecessary) who leaves her husband to become a journalist. After a an African-American cocktail waitress is found dead, no one seems to care except Maddie, whose subsequent investigation is told from both her perspective and the point of view of the ghost of the deceased. Kirkus starred.
Good Girl, Bad Girl
by Michael Robotham
" Troubled psychologist Cyrus Haven has to evaluate a girl without a past while finding out who killed a rising young figure skater. " That's a lot going on there. This is a thriller msytery that centers around the interplay between two desperately hurt people.
The Toll
by Cherie Priest
Southern Gothic, this book revolves around a swampy town south of the Mason-Dixon, the residents of which will go to great lengths to forget their hideous past.
Authority
by Jeff Vandermeer
This is the second of the Southern Reach trilogy, the first being Annihilation. I won't lie: I did not like this sequel. It seemed to stumble in the pacing department, but the series as a whole has gotten a lot of good press, and the third book wraps it up well. You should totes read the first one, though.
Life on the Other Border
Teresa Mares
In her timely new book, Teresa M. Mares explores the intersections of structural vulnerability and food insecurity experienced by migrant farmworkers in the northeastern borderlands of the United States.
Under Currents
by Nora Roberts
This book is by Nora Roberts. If you like Nora Roberts you will like this book. If you don't like Nora Roberts you will not like this book. It's pretty much that simple.
Fleishman is in Trouble
Taffy Brodesser-Akner
Another Kirkus Starred book, this debut work of fiction turns the cliche of the divorce novel on its head. It features the titular Toby Fleishman who, in the midst of a divorce, has discovered dating apps, and the promiscuity and sexual freedom they promise. This book feature Toby, but he is not the hero, or even the protagonist. This book is about the many curious and fascinating women around him.