New in Fiction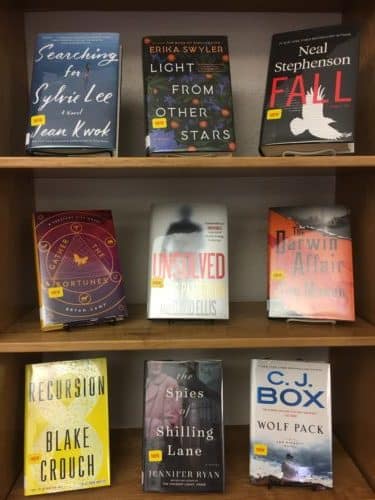 Searching for Sylvie Lee
by Jean Kwok
A poignant and suspenseful drama that untangles the complicated ties binding three women—two sisters and their mother—in one Chinese immigrant family and explores what happens when the eldest daughter disappears, and a series of family secrets emerge, from the New York Times bestselling author of Girl in Translation.
Light from Other Stars
by Erika Swyler
Eleven-year-old Nedda Papas is obsessed with becoming an astronaut. In 1986 in Easter, a small Florida Space Coast town, her dreams seem almost within reach--if she can just grow up fast enough.
Fall
by Neal Stephenson
Fall, or Dodge in Hell is pure, unadulterated fun: a grand drama of analog and digital, man and machine, angels and demons, gods and followers, the finite and the eternal. In this exhilarating epic, Neal Stephenson raises profound existential questions and touches on the revolutionary breakthroughs that are transforming our future. Combining the technological, philosophical, and spiritual in one grand myth, he delivers a mind-blowing speculative literary saga for the modern age.
Gather the Fortunes
by Brian Camp
Unsolved
by James Patterson & David Ellis
FBI analyst Emmy Dockery's unique ability to uncover the patterns that others miss has brought her an impressive string of arrests. But a new case – unfolding across the country – has left her looking for something which may not exist.
The Darwin Affair
by Tim Mason
London, June 1860: When an assassination attempt is made on Queen Victoria, and a petty thief is gruesomely murdered moments later—and only a block away—Chief Detective Inspector Charles Field quickly surmises that these crimes are connected to an even more sinister plot. Was Victoria really the assassin's target? Are those closest to the Crown hiding something? And who is the shadowy figure witnesses describe as having lifeless, coal-black eyes?
Recursion
by Blake Crouch
"An action-packed, brilliantly unique ride that had me up late and shirking responsibilities until I had devoured the last page . . . a fantastic read."—Andy Weir, #1 New York Times bestselling author of The Martian
The Spies of Shilling Lane
by Jennifer Ryan
From the bestselling author of The Chilbury Ladies' Choir comes a thrilling new WWII story about a village busybody—the mighty Mrs. Braithwaite—who resolves to find, and then rescue, her missing daughter.
Wolf Pack
by C.J. Pack
Wyoming game warden Joe Pickett encounters bad behavior on his own turf--only to have the FBI and the DOJ ask him to stand down.