New on the Shelves, July 2019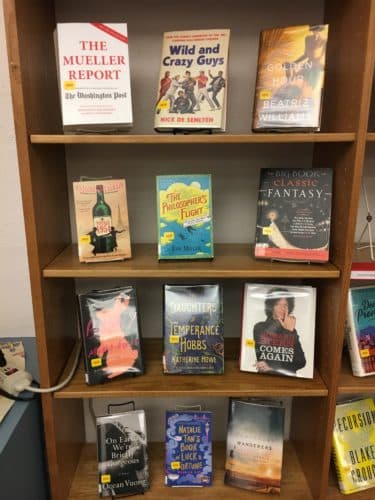 The Mueller Report
by the Special Investigator's Office
I imagine you've heard of this and, like apparently 89% of congresspeople, you probably haven't read it. I don't blame you, it's a lot. But you can consider it an exercise in not taking anyone else's word for something. Remember when they published the Bible in English? Of course you don't. But it was a big deal then, too.
Wild and Crazy Guys
by Nick De Semlyen
An interesting window into an age of comedy that we now take for granted, but which was ignited by only a very few, very funny, people.
The Golden Hour
by Beatriz Williams
This book got a Kirkus starred review (no mean feat), and is an adventurous love story about the Duke and Duchess of Windsor, pre WWII. Read what Kirkus has to say HERE.
Vintage 1954
by Antoine Laurain
For those of you who like Midnight in Paris, this book is about a man who, after consuming a bottle of beaujolais of the eponymous vintage, wakes up in the year of its bottling.
The Philosopher's Flight
by Tom Miller
Set during an alternate, fantasical version of WWI, where "empirical philosphers," AKA mages, dominate the world with fabulous and terrifying technology. I'll be honest: I don't see many people reading this book - but it was well reviewed and the sequel, The Philosopher's War, has gotten acclaim. Prove me wrong and try something weird.
Big Book of Classic Fantasy
Edited by Jeff Vandermeer
This is the followup to the successful Big Book of Science Fiction. Fantasy can be an off-putting genre, with ridiculous naming conventions and some truly awful book-to-film adaptations. Vandermeer is an adroit editor, though, introducing readers to a wide sampling of the field.
Bunny
by Mona Awad
Legally Blonde meets American Psycho.
The Daughters of Temperance Hobbs
Katherine Howe
A creepy book about an author digging into withcraft-laden history of her family, with the hope that she can find a way to lift the curse that has plagued them for generations.
Howard Stern Comes Again
by Howard Stern
Yes, Howard, we all see what you did there. Har har. I will be honest: I have never been a fan of Howard Stern - but he does have a reputation for illiciting surprisingly expressions of honesty from his interviewees. This collection of interviews from his life encompasses just about everyone who is anyone, and will have something for everybody.
On Earth We're Briefly Gorgeous
by Ocean Vuoung
Reviewers have been rhapsodizing about this debut novel from an already successful poet. Part memoir, part fiction, this book is difficult to classify, but it centers around a young man and his struggle with otherness and the looming shadow the Vietnam War still casts down upon the generations.
Natalie Tan's Book of Luck & Fortune
by Roselle Lim
Lighthearted, fun, about motherhood and cooking. I haven't read it. People say good?
Wanderer
by Chuck Wendig
This book has a boring cover and rip-roaring plot. So, okay, get this: a comet passes close by the Earth and suddenly a disease takes hold across the world - a form of mobile somnabulance where people start staggering in single direction toward...what? This has been compared to Stephen King's The Stand, with a varied cast of characters, a terrifying government AI, a missing scientist, and a group of people trying to figure out what is happening and how to survive. Read the review.