New in Non-Fiction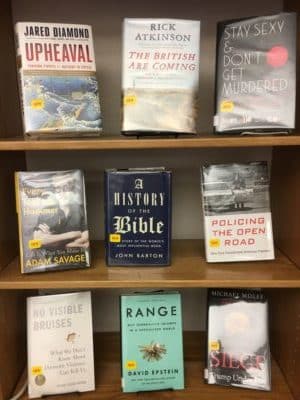 Upheaval
by Jared Diamond
A history of how nations deal with and survive turbulent times.
The British are Coming
by Rick Atkinson
Having won the Pulitzer Prize for his three part history of World War II, Atkinson is turning his impressive historical eye to the founding war of the soon-to-be United States.
Stay Sexy & Don't Get Murdered
by Georgia Hardstark and Karen Kilgariff
Part autobiography, part How To, Hardstark and Kilgariff transport the success of their popular podcast to book form.
Every Tool's a Hammer
by Adam Savage
The new book by Master Maker Adam Savage is a personal guide of how to create, stay on target, and not stop even when projects get you down.
A History of the Bible
by John Barton
No biggee. Just the history of the most influential book in all of human history. Barton is more interested in finding the historical roots of the bible than in explaining the religious interpretation of them.
Policing the Open Road
by Sarah Seo
The coming of the interstate highway changed our expectations of government oversight, the police, and how American culture worked.
No Visible Bruises
by Rachel Louise Snyder
Snyder dives deep into the unseen wounds of domestic violence, often unreported and misunderstood.
Range
by David Epstein
How it's not bad to be a generalist. Omg I hope so...
Siege
by Michael Wolff
Michael Wolff's salacious new book about the dysfunction at the heart of the Trump administration. His last book was, ahem, ethically suspect, and not a great example of journalism...but it was entertaining?