January 2019 Board Minutes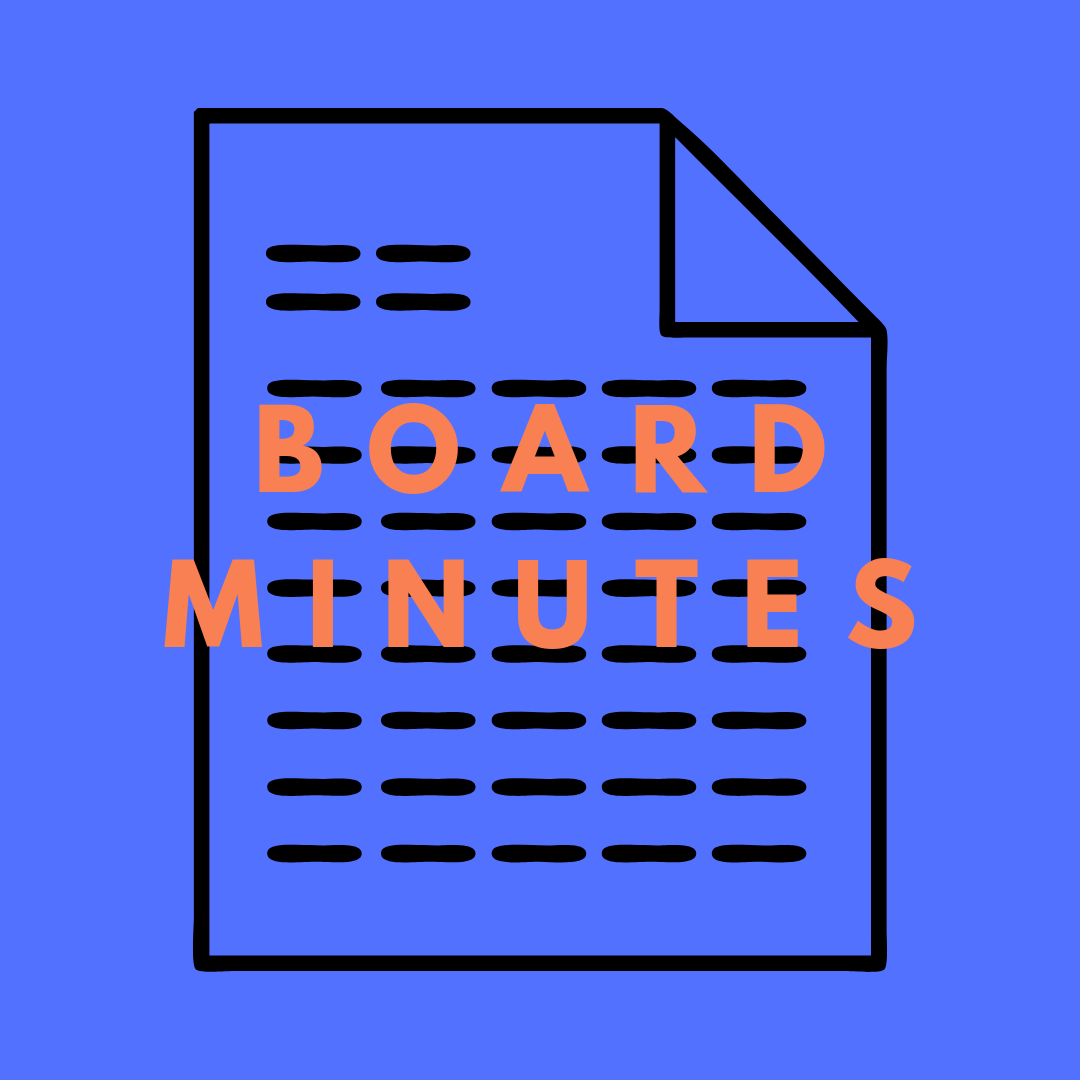 Swanton Public Library
Board of Trustees
January 9, 2019

The regular meeting of the Swanton Public Library Board of Trustees was held on Wednesday, January 9, 2019. In attendance at the meeting were:
Rebecca Rupp, Chairman
Kathy Kneebone, Secretary
Sarah Tanner, Trustee,
Kathy Messier, Treasurer (phone)
Ron Kilburn, Trustee
Caleb Rupp, Director
James Towne, Community Financial Services
Marie Speer, Member of the public
Meeting called to order at 6:03
Items from the Public- Marie Speer expressed interest in the library bookkeeper position, and arranged to discuss this with treasurer, Kathy Messier.
James Towne from Community Financial Services gave us an update on the library's investment portfolio, he was informed of our upcoming unexpected expenses, including and audit, increased insurance costs, and replacement of the library's air conditioner compressors. We have the option to access our funds if need be and we will keep in touch with James and CFSG.
3. Kathy Messier made a motion to approve the minutes of the December meeting, Ron Kilburn second, motion carried.
4. Treasurer report presented, and a review of staff hours was made in order for Caleb to work with the schedule. Ron Kilburn made a motion to accept, second made by Sarah Tanner, motion carried.
5. With the absence of a Director in December, Becky Rupp presented the library performance update: Water Color Christmas Cards with Mike Barkyoumb -7, Pizza and Movie Night was a full house, Gingerbread House Making-20 kids plus adults, Christmas Crafting- 40 kids, St. Nicholas Day- 29 kids, Swanton Writers Group- 11, Story hours – Wednesday and Friday 2-4 kids. Suggestions: Could we post storytime books and crafts in advance on the website and Facebook page? (Finley) Take more advantage of the Swanton Vermont website. Invite local daycares to story hour (maybe offer traveling story hour to local daycare centers)
6. Old Business-
Insurance Update: As the library is in need of acquiring Worker's Comp and Liability Insurance, we received a quote from Kinney Pike Insurance. Kathy Kneebone made a motion to accept the quote, Ron Kilburn second, Motion carried. Budget: Becky updated the Selectboard on our additional expenses. The budget as it is now is $153,000
Bookkeeper position: Marie Speer will be meeting with Kathy Messier regarding the bookkeeping position.
Elevator repair: The elevator has been repaired at the cost of $2700, and is ready for inspection on January 15.
King's Daughter's Room Update: Ron Kilburn states that David Winchester will look into ways to partition off the King's Daughter's Room in order to make it a more attractive accessible space for programs and events. Caleb is interested in better lighting in the room, mentioning track lighting as a possibility.
7. New Business-
Audit: Becky presented the two quotes for the audit and they were reviewed. Kathy Messier made a motion to accept the quote from A.M. Peisch. Kathy Kneebone second, Motion carried.
Portland Glass window replacement: Portland Glass looked at the window in the front entrance as well as the other window upstairs. Caleb will call and see when we can expect the quote.
Other library building repairs:
Kathy Kneebone will contact Corey Jucket about looking at the window trim painting that needs to be done.
The toilet on the main floor needs to be replaced as the parts that are required to fix the one we have are no longer made. The cost of the toilet is $475.
Swanton Playground engraved brick purchase: We will purchase a brick for the playground, Caleb will write the message to appear on the brick.
Harry Potter Night: Caleb and Finley are working on plans for this night (Wednesday, February 6) Planning meeting Tuesday, January 14 at 2:00.
VHC Speaker Programs: The library will pair up with the SAC for the cost ($75 each) to bring for Rick Winston with an Alfred Hitchcock program.
Swanton Historical Society will bring Spirit Medium, Jason Smiley on October 13 at 2 pm. A room will be needed for this, and Caleb is working on improving our Room Reservation system as this was brought up at staff meeting as a need.
Thinking Money for Kids application / Children's Business Fair: Thinking Money for Kids is a traveling exhibit with an application process, Caleb to decide to apply for it. Discussion of a Children's Business Fair / Farmer's Market here at the library.
8. Upcoming programs at the Library:
Movie Making Mondays, 3-5 pm
Story Hour Wednesdays and Fridays, 10-11 am
Music and Movement for Babies and Toddlers, Thursdays 10-11 am
Yoga Story Time, Friday, January 18, 10-11
Author Visit ( Central School)- Friday, January 18, 1pm.
Card Game Tuesdays- Tuesdays, 4-5 pm.
Teen Night- Friday, January 18, 6-8pm
Dungeons and Dragons- Mondays, 6-9 pm
Anxiety Support Group- Thursday, January 17, 6 pm
Homeshcool Play Group- Thursdays, 11:30-12:30
Winnie the Pooh Day- Saturday, January 19, 10:30-1pm
National Puzzle Day- Tuesday, January 29, 3:30-5:30 pm
Swanton Writers Group- Thursday, January 24, 6-7:30
Gymnastics (Swanton Recreation)-Tuesday-Thursday 3-6 pm
Scrapbooking Group- TBA
Chemistry Camp- February Break

9. The meeting was adjourned at 8:20
10. The next scheduled meeting is February 13, 2019
Respectfully Submitted,
Kathy Kneebone, Secretary